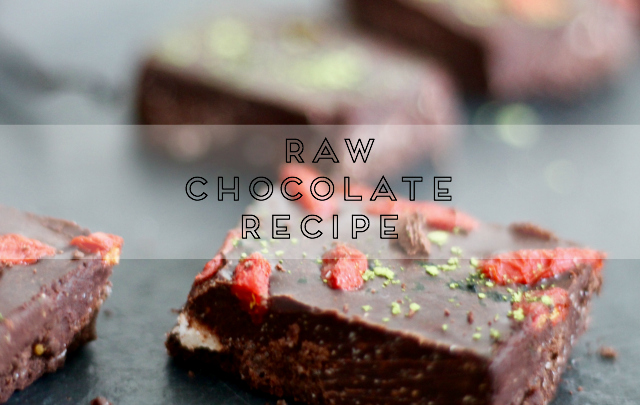 Guys, have you ever thought about making your own raw chocolate!?
It's so easy and you really only need a few ingredients and it's even healthy.
Yes, it's true! The ingredients are real super foods!
CACAO
is high in antioxidants which protects the cells from toxins –  improves circulation and reduces cardiovascular risk and repairs and resists damage done by free radicals, reducing cancers
increases serotonin and other neurotransmitters- promotes a positive outlook and just makes us feel good!
rich in minerals like magnesium,  sulfur, calcium, iron & potassium
COCONUT OIL
coconut oil is one of the few foods that can be classified as a "superfood."

Its unique combination of fatty acids can have profound positive effects on health. This includes fat loss, better brain function and various other amazing benefits.

INGREDIENTS 

55g coconut oil, melted
85 g de-oiled cacao powder
a little bit of vanilla pulp
2 tbsp raw honey
Xucker sweetener or a fewdrops stevia
RECIPE
First, melt the coconut oil over a low heat. Remove (!!!)  from the heat as soon as it's melted. Proceed with the next few steps. After taking it off the heat sift in the cacao powder and whisk until completely combined. Then add in the sweetener of choice, I used XUCKER, but you can also use Stavia or any other sweetener. And that's all you have to do! – Easy isn't it !?  Now you are ready to do whatever you please! You can drizzle the chocolate over fruits, pour it in cups or spread it on a baking sheet (as I did). I topped my chocolate with goji berries and matcha tea – I used the KISSA – Tea "SUPERMODEL'S SECRET".  Put it in the fridge for 15-20 min. One thing to be careful of, is this chocolate gets melty really pretty fast – store it in the fridge and be prepared to have a little chocolate left on your fingers after eating it.