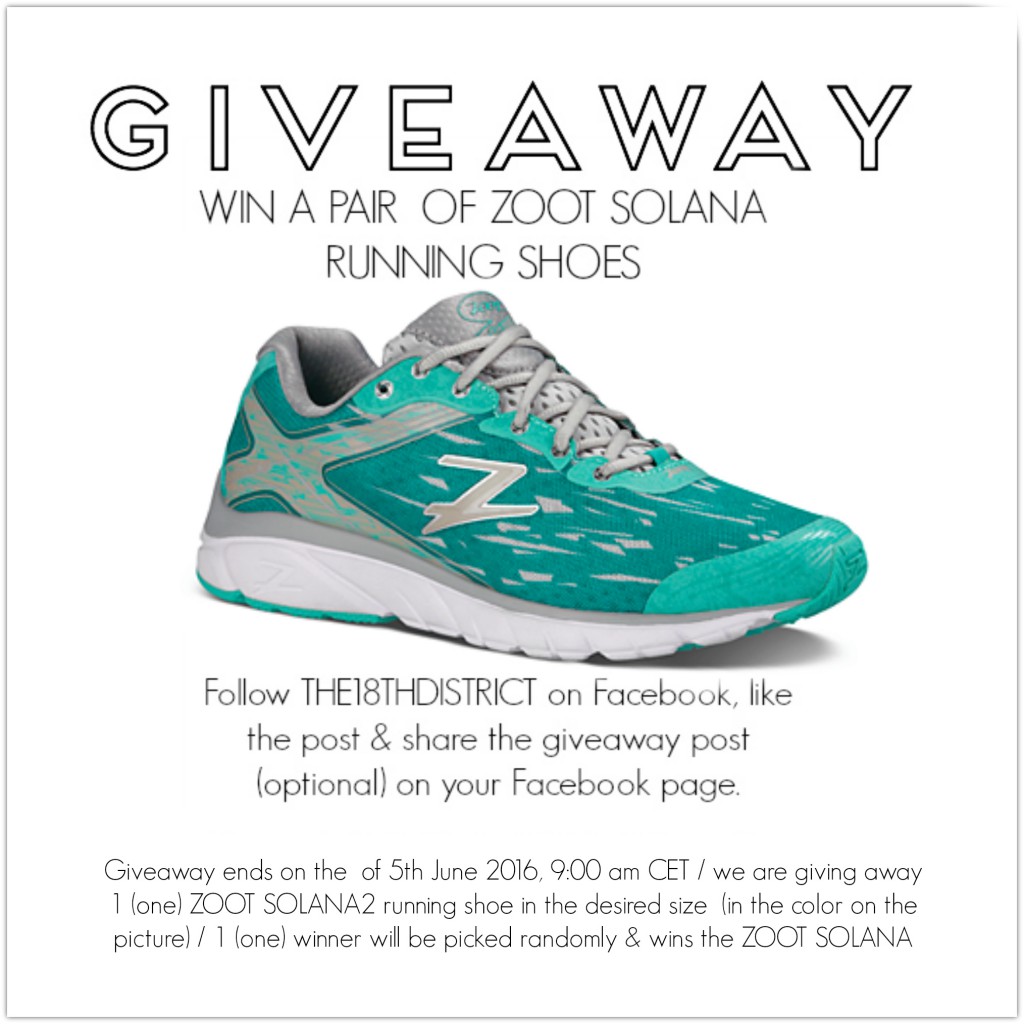 Guys, I can hardly believe it, my first race week officially started yesterday! I'm super excited! I decided to share my excitement with you this week and prepare something something special for you!
IT'S GIVEAWAY TIME!
Zoot sports is one of my favorite Triathlon gear labels and you might have seen me always wearing their running shoes. They are simply the best for my feet.Zoot  primarily makes pull-on racing models, but the Solana2 is perfect for runners, to whom they're epanding. I'm totally in love with the neutral, responsive ride underfoot & the fit: A seamless internal layer topped with breathable mesh and surrounded by a supportive band provides a secure feel and freedom (which means no more black toes;)) for toes. It's lightweight and flexible, and wearing it feels like you're running barefoot, yet there's still a comfortable level of support and protection. It's an ideal race shoe for midlength events & long distance training runs.
Lace 'em, forget 'em & run!
I again teamed up with the lovely guys of ZOOT & we are giving away one pair of the WOMEN SOLANA2 RUNNING SHOE in your desired size!
HOW TO ENTER ?
You have 2 different options to enter:
1. Make sure to follow THE18THDISTRICT on Facebook & ZOOT SPORTS, comment bellow this post why you want to win the ZOOT SOLANA.
2. Follow THE18THDISTRICT on Facebook, like the post there & share the giveaway post (optional) on your Facebook page.
Giveaway ends on the  of 5th June 2016, 9:00 am CET / we are giving away 1 (one) ZOOT SOLANA2 running shoe in the desired size  (in the color on the picture) / 1 (one) winner will be picked randomly & wins the ZOOT SOLANA
GOOD LUCK![line]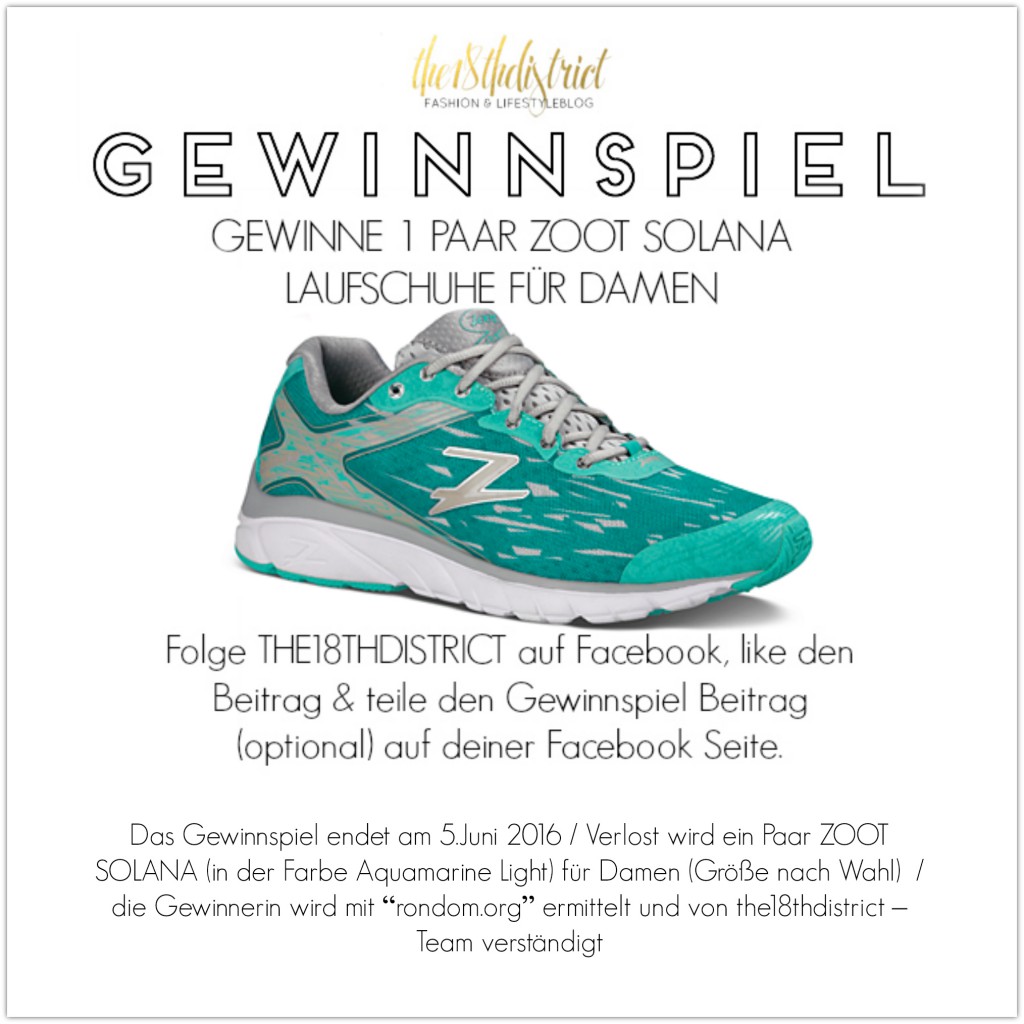 Oh Leute! Ich kann es kaum glauben, jetzt ist es endlich soweit! Meine erste Ironman70.3 Raceweek hat gestern begonnen! Ich kann es echt kaum glauben!
Ich habe mir für diese Woche etwas besonderes überlegt und gemeinsam mit ZOOT ein Gewinnspiel für euch auf die Beine gestellt!
Der Zoot Solana ist (wie ihr ja vielleicht schon wisst)  mein liebster Trainings-Laufschuh! Besonders wegen seiner seiner nahtlose Verarbeitung im Inneren finde ich den ZOOT Solana ganz besonders toll, da ich immer Barfuß laufe. Passform und Sitz des Solana sind toll. Unabhängig vom Fitnessgrad seines Trägers erfüllt er unauffällig und grundsolide seine Dienste. Der perfekte Schuh für Bewerbe bis zum Halbmarathon & lange Trainingsläufe. Der perfekte Schuh für jede Gelegenheit, sogar für Trailruns! Jetz gibt es den Solana2, er ist noch besser verarbeitet und verspricht noch mehr Lauffreuden mit diesem Schuh.
Ihr könnt einen ZOOT SOLANA für Damen (in der Farbe Aquamarine Light) in eurer Größe gewinnen!!!
WIE KANN ICH GEWINNEN? 
1. Folge THE18THDISTRICT & ZOOT SPORTS auf Facebook & kommentiere hier warum gerade du diesen tollen Schuh gewinnen sollst.
2. Folge THE18THDISTRICT auf Facebook & like den Beitrag dort. Wenn du möchtest teile den Beitrag auf deiner Seite.
Das Gewinnspiel endet am 5.Juni 2016 / Verlost wird ein Paar ZOOT SOLANA (in der Farbe Aquamarine Light) für Damen (Größe nach Wahl)  / die Gewinnerin wird mit "rondom.org" ermittelt und von the18thdistrict – Team verständigt
VIEL GLÜCK!
***in friendly cooperation with ZOOT