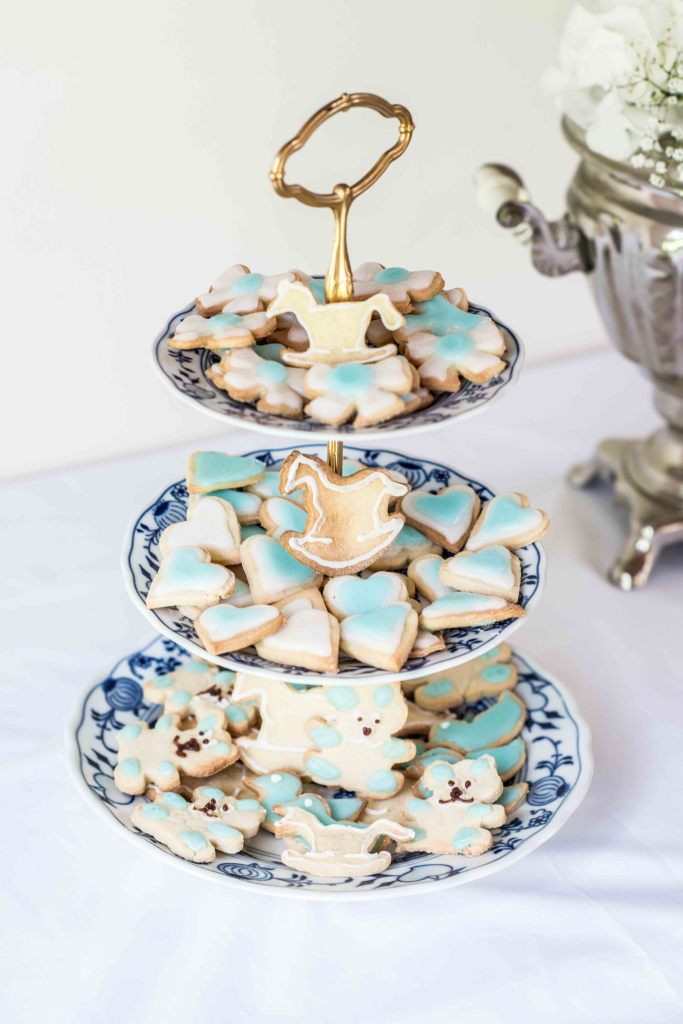 Who doesn't like cookies? Well, I think everyone does.
Lovely decorated cookies are a must at every sweet candy buffet, of course they were also part of your sweet treats buffet. You can easily cut out the biscuits by using the perfect cookie cutters from Kaiser, which are available in many different shapes and sizes. We used hearts, ducks, bears and super cute rocking horses. These mouthwatering cookies definitely do not only lighten up children's eyes. Everyone loved them and told us that they are too beautiful to eat :)
INGREDIENTS:
makes 3 baking sheets full of cookies
120g powder sugar 
100g butter 
250g all purpose flour
2 egg yolks 
3 tbsp heavy cream (used one with reduced fat) 
1 sachet Dr. Oetker Bourbon Vanilla Sugar 
1 tsp. Dr. Oetker Baking Powder
2 tbsp freshly juiced lemon juice 
1 pinch of salt 
For the icing : 
250g powder sugar 
juice of a 1/2 lemon 
a little bit !!!!  (really be careful with that) hot water
Dr. Oetker Food Color blue (or the color you would like to have)
Knead the flour and cold butter together. When the butter and flour are carefully mixed add the eggs, heavy cream, sugar, vanilla sugar and baking powder and knead for a few minutes. Quickly cool the dough. You should at least cool it in the refrigerator for 30 Minutes, or leave the dough for several more hours, up to 1-2 days in the fridge. When cutting out the cookies only take the amount of dough you will use, leave the rest in the fridge. Bake at 170 C, 10-15min.
Let them cool down.
For the Icing:
Mix the powder sugar with the lemon juice and a little bit of hot water (really use it carefully) until you get the desired consistency, which should be smooth and sticky. Put in a few drops of the blue food coloring and fill the icing into a Kaiser Decorating Pen and decorate the cookies as desired.
**** special thanks to CarlettoPhotography for the wonderful pictures !