So this post has been requested by you guys for quite a long time ….
Sport definitely occupies a big part in my life and has become the essential for my wellbeing and happiness in the past few years. A healthy lifestyle, including sport and healthy eating doesn't only enhance your physical fitness, but also enhances your mental fitness in so many situations in life.
I workout at least 5 times per week and mainly do a mixture of cardio, weight training, hiit and functional training. Running has become my favorite endurance sport and I startetd to compete in different long and short distance runs about a year ago. Sport can definitely be and addiction – the best and healthiest addiction in the world. And it makes me happy to say that I'm definitely a sport maniac and totally addicted to sports.
I teamed up with H&M to show you my favorite pieces of the upcoming new sports collection.
For me it's important to wear functional clothes during my workout, but they also need to be stylish and an eye catcher. In my opinion, stylish workout clothes make your workout more fun and much easier. New sport clothes always motivate me to push harder in my workout and make it so much easier to start the workout on days when motivation lacks (don't we all have those kind of days, sometimes ? ;)
The new H&M SPORT collection includes functional clothes with different fashionable patterns and colors for indoors and outdoors.
For this post I decided to wear a matching combination of sport bra (top) and pants and paired it with a bright pink super functional sport shirt for outdoor activities (one of my favorite pieces).
Now you can get a little insight in part of my training routine. On days when I go running outside or do some interval training on the track I do my abs and arm workout at home.
You'll get a deeper insight into my workout routine in my next posts with a clear description of the exercices.
Have a wonderful sporty week everyone!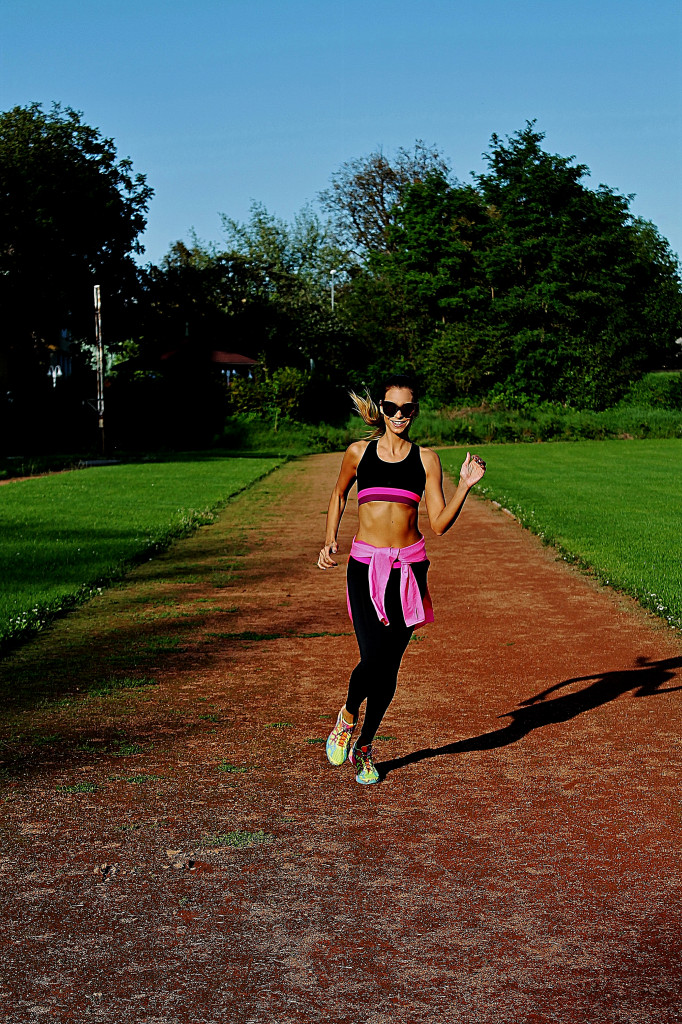 H&M SPORT – BRA, SHIRT & PANTS ***all pieces will be available from week 37 / ASICS – SHOES NOOSA TRI 9 / ITALIA INDEPENDENT – SUNGLASSES / MY EQUA – WATER BOTTLE