I decided to give you a brief glimpse at M's flat, well, actually it's our flat. As you might have noticed, I'm always commuting between Vienna, Carinthia and during summer also Italy, so that's why I'm more or less living out of the suitcase. So M and I don't really have a main residence, but this is the place where we spent most of the time together. We both love it puristic and airy, so the main colors in the flat are white, silver and gold.
That's the current decoration in the living room, as I love to redecorate my flats, the whole interior accessories change quite often. I really love to incorporate fresh flowers into my home. Whether I pick up some blooms from the yard, buy a pre-arranged bouquet or arrange my own bouquets, I always try to keep fresh flowers around.
The current arrangement of the living room, combines a masculine and feminine style we both feel comfortable with throughout the summer months.
What's my favorite corner of the living room?
Of course, the golden chair with my magazines and the golden Chanel N°5 print by
I See Noise Prints
;)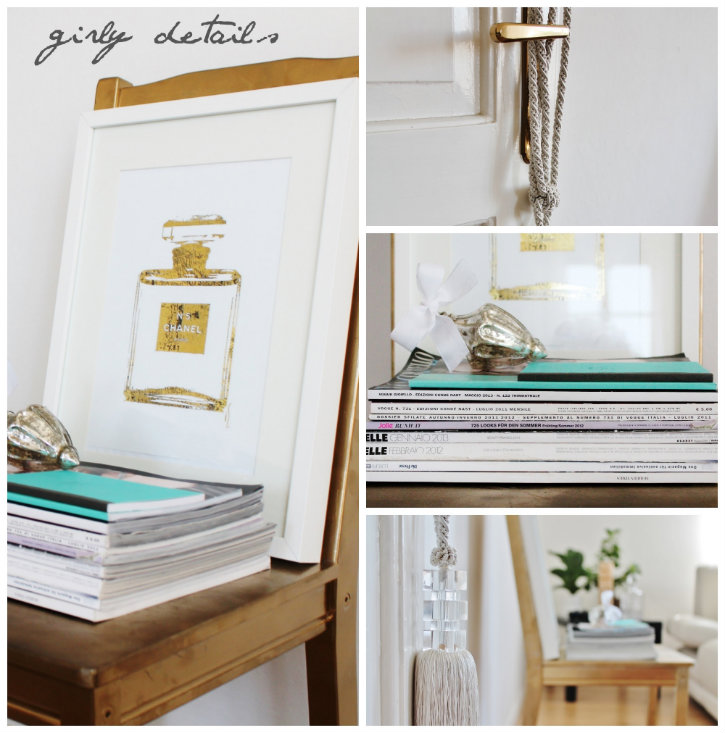 PILLOWS – NY Lounge: H&M Home / Striped: Ikea / Light beige: Slama
DECORATION TASSEL – Zara Home
WHITE BOXES – Ikea
GOLDEN CHAIR & SILVER BOX TABLE – Both vintage and a DIY makeover
POCKET WATCH – Vintage