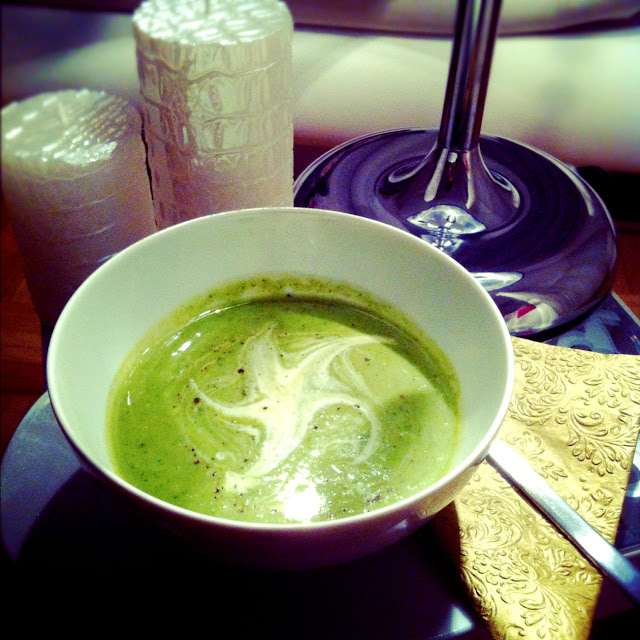 I tried this recipe a few days ago, well it actually is my own creation. A normal boccoli soup just seemed quite stale to me, so I decided to give my soup this extra something by adding pineapple.
Ingredients:
* 1 onion peeled and finely chopped
* 2 vegetable or chicken stock cubes
*2 1.5 cm slices pineaplle
* Cremfine or fat-reduced crème fraîche
To make your soup:
1. Peel and roughly chop the onion. Put a large pan on a medium heat and 2 table spoons of olive oil. Add all the chopped onions and lightly sautée it, when the onion is golden brown caramelize it by adding a teaspoon of sugar.
2. Add your chopped broccoli and bring to boil.
3. Add the vegetable or chicken stock cubes and a 1/2 liter of water and bring to boil. Reduce the heat and cook for around 5 minutes.
4. Add your chopped pineapple and cook for another 10 minutes.
5. Season it with salt and pepper. Using a liquidizer pulse the soup until smooth.
To serve your soup:
. Before serving add a teaspoon of the cremefine or low-fat crème fraîche to your serving bowls and add the soup. You can make a lovely pattern with the crème fraîche like I did, by drawing a pattern with a toothpick.
SOME HEALTH BENEFITS OF BROCCOLI
Broccoli contains a high amount of potassium, which helps maintain a healthy nervous system and optimal brain function, as well as promotes regular muscle growth.

Blood Pressure
Along with a high amount of potassium, Broccoli also contains magnesium and calcium that help regulate blood pressure.

Vitamin C
One cup of broccoli contains the RDA of vitamin C, an antioxidant necessary for fighting against free radicals. Moreover, vitamin C is an effective antihistamine for easing the discomfort of the common cold.

Bone Health
Broccoli contains high levels of both calcium and vitamin K, both of which are important for bone health and prevention of osteoporosis.

Sun Damage
Broccoli is helpful in repairing skin damage thanks to the glucoraphanin it contains which helps the skin to detoxify and repair itself.

Immune System
One cup of broccoli bolsters the immune system with a large dose of beta-carotene. Trace minerals, such as zinc and selenium, further act to strengthen immune defense actions.

Cancer Prevention
Broccoli contains glucoraphanin, which with the body processes into the anti-cancer compound sulforaphane.