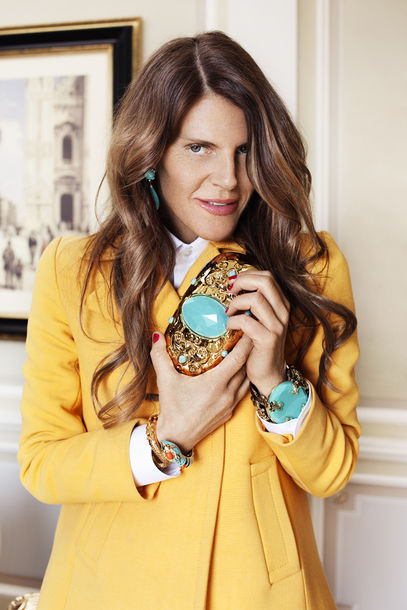 When I first heared about the collaboration of Anna Dello Russo and H&M , I was very excited. Acctually I wanted to write this post a few days ago, just when I first heared about this great collaboration, but I had no time. Well, Anna Dello Russo is a real fashion icon and fashion maniac and thanks to a penchant for changing her extravagant outfits several times a day at fashion shows, she became a style celebrity. She is the editor-at-large and creative consultant for Vogue Japan. Anna Dello Russo is an avid collector of fashion and jewellery and describes herself as a passionate fashionista.
This will be Anna's second collab, bringing her advanturous fashion sense to the mega-retailer, after working with Macy's last year. According to H&M's press release, "the over the top" acccessories will include jewelry, sunglasses, shoes, bags and a trolley. We can definitely expect oversized, glitzy, fashion-forward pieces when the collaboration will be released in over 140 H&M stores (and H&M.com) on October 4th, 2012.
She definitely is one of my fashion icons and her outfits always inspire me. I'm so looking forward to October 4th!
Are you as over-the-top psyched about this as I am ?
I'll see you in line on October 4th. ;)
xxx
Q.F
Some of Anna's inspirational outfits …….