I have been thinking about doing a post about Chanel beauty products for quite a while and here it is, a post about my CHANEL MAKEUP Collection.
Ever since I can remember my mum used Chanel makeup products and always told me how satisfied she is with the blush, mascara, lipsticks, eyeshadows etc. of this brand. In our childhood my sister and I sometimes secretly stole into my parents bathroom and began to apply all her makeup and played
'beauty salon', we both were always overwhelmed by the big range of Chanel beauty products she kept beside all the the other make up stuff. Time went by, and now my collection is nearly as big as my mother's.
I love the texture and the range of colours Chanel uses their products. I've tried many other brands of eyeshadow and blushes before, but Chanel always remains one of my favourites, maybe also due to the classic and always trendy boxing.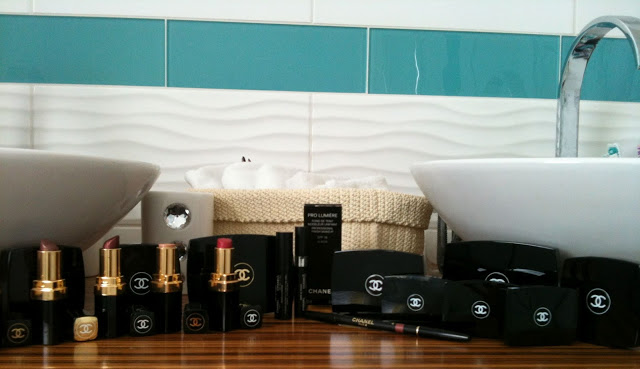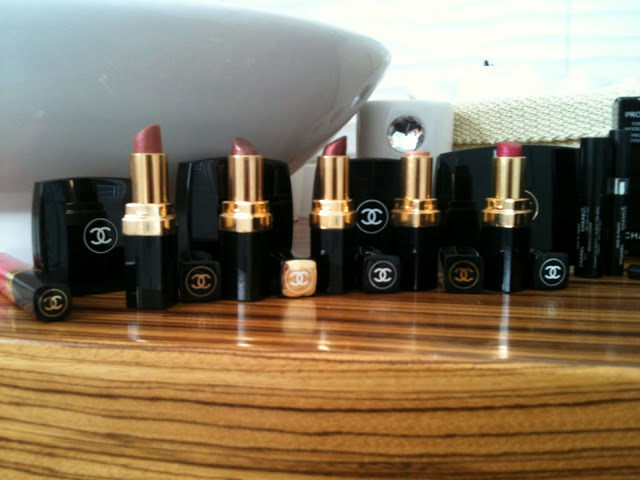 Some of my Chanel Lipsticks, the one I really love is the last one on the right side-Rouge Coco Shine 62 Monte Carlo- a fabulous red shiny colour, a sexy but still classy red nuance.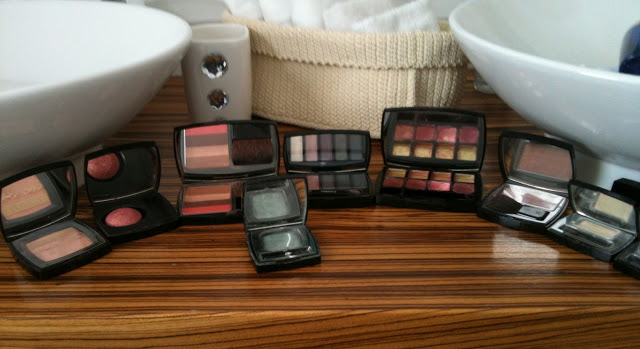 From left to right:
POUDRE TISSÉE HIGHLIGHTING POWDER and BLUSH –
it has a very fine texture and brings a radiant flush iridescent shimmer to your face.
JOUES CONTRASTE POWDER BLUSH, 68 ROSE ECRIN – it's silky texture ensures simply application and it adds a fresh peachy colour to your cheeks, I simply love this blush.
SPECIAL EDITION POWER-BLUSH PALETTE(from last summer)- it's a perfect palette, as it consists of light and bright highlighting colours from a soft tanned to dark tanned nuance, love it in summer.
EYESHADOW PALETTE (from winter) – Best Eyeshadow-Palette from Chanel ever, as it consists of nuances from beige to dark grey/black and can perfectly be used for a simple day makeup as well as for smokey eyes-evening makeup.
LIPSTICK PALETTE SPECIAL EDITION(old) – One of my first Chanel-Palette, consists of all time classic Chanel lipstick nuances.
LE TISSAGE DE CHANEL BLUSH Duo Tweed Effect (new) – it has an ultra soft texture, airy and light wearing and very easy to apply, as the two colours are 'woven'. It reminds of the Chanel tweed fabric and adds a subtle shimmering and natural luminous glow to your face. I think it's perfect for darker skin tones like mine:)
The other eyeshadows you can see are simple colours- light-beige and rose, a grey one with a greenish touch and a dark grey-nearly black one for smokey eyes:)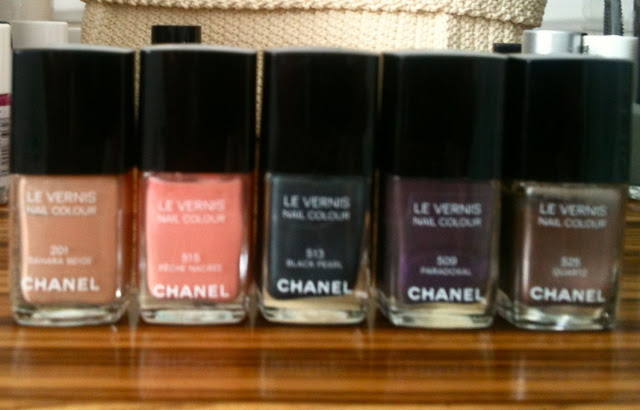 I have to say,that I'm not a fan of Chanel Nail Colors as they tend to dry very slow and are not very long lasting (at least this is the experience I've made), but I just couldn't resist to those 5 (actually 6, the 505 Particulière must be somewhere, but I couldn't find it) wonderful colours. From left to right-
Nr.204 Desert Rose; Nr.515 Péche Nacrée; Nr. 513 Black Pearl, Nr.509 Paradoxal; Nr. 525 Quartz.
My favourite for summer definitely is the 515, for winter 525 and the 505 I often use in both seasons.
PS:I came across an amazing application on the CHANEl homepage, you can write 'CHANEL LOVE LETTERS' with characters like the ones in the picture below (all the characters consist of small beauty products), aren't they cute!?
Try it and send your friends some lovely letters by email.