As I'm still working on the aftermaths from our hacker attack, I also still owe you a little review about the Madonna Blogger Award and the lovely hotel we stayed during our trip to Vienna.
As you might have noticed we stayed at the the wonderful Ruby Marie Hotel. This super stylish hotel is located at the upper part of the famous "Mariahilferstraße", really close to the first district and all the famous spots, like the St. Stephen's Cathedral and all the other must see spots.
The Ruby Marie provides affordable accommodation with the idea of  "Lean Luxury". This hotel is offering tech savvy, music-loving travellers an inexpensive boutique hotel alternative, a frill-free stay, but with all the essentials:  a great night's sleep, caring service, uncomplicated comfort, unique style and not forgetting a bit of fun. The idea of Ruby is : You want no less but, and here's the smart bit, you also want no more.  So why pay for anything you don't need?! Quite clever, isn't it ! ;)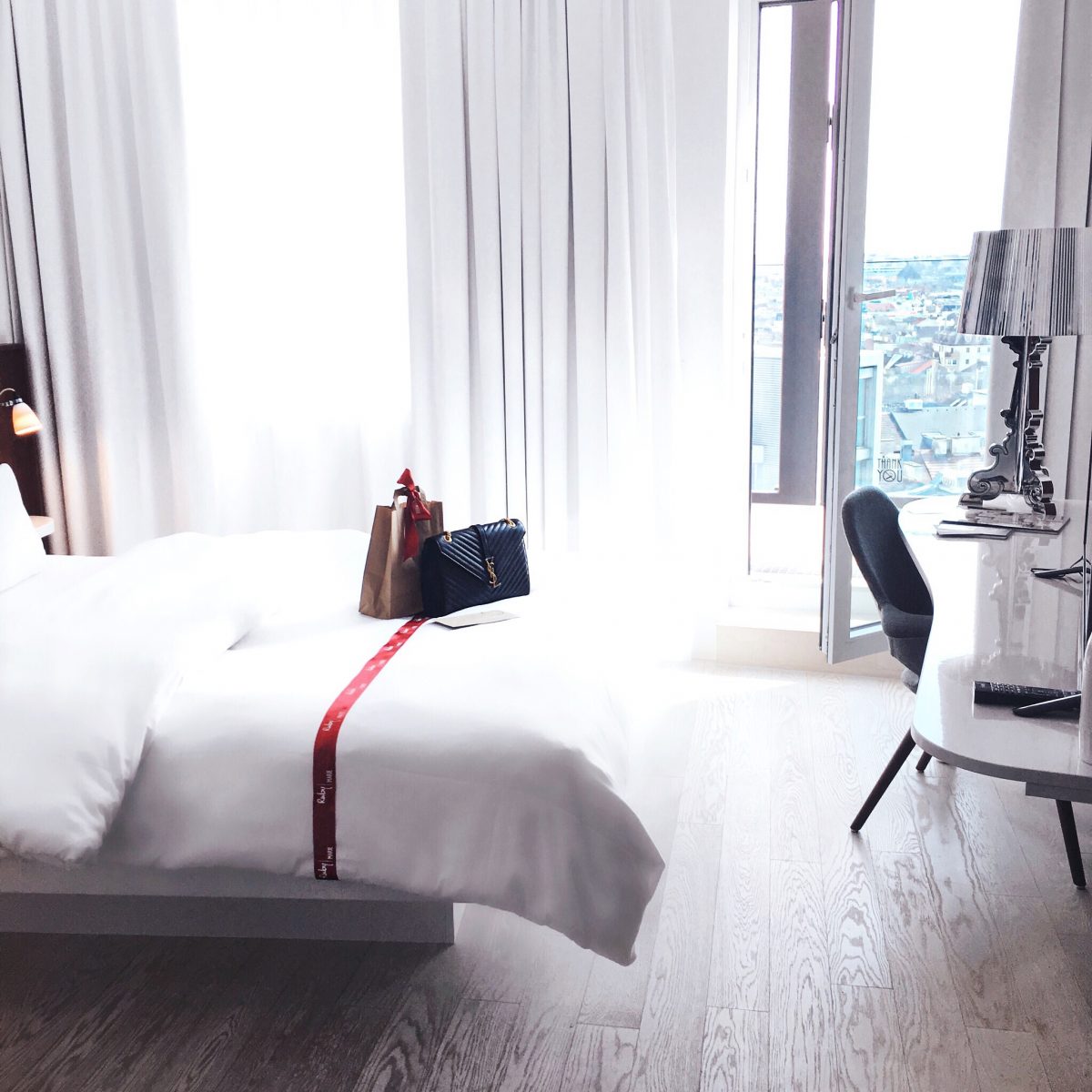 The guestrooms are all high on comfort and low on clutter. There is everything you need and nothing you don't need. Each room is a glamorous space of beautiful materials, smart design and technology that perfectly fits together. The extraordinarily beautiful designed all-walk-in shower with a raindance showerhead to get sensual (& clean!) under, is the highlight of each room. Should you require more intimacy, just draw the curtain. An unusual feature is the Marshall guitar amp and sound system to plug and play your own content or listen to their own Ruby Radio. Do you fancy a strum or a jam session !?  Electric guitars are available at reception.
At the Ruby Marie Hotel Vienna you get laid-back glamour in a room that includes a super-comfortable bed and a generous and sensuous walk-in shower an the most gorgeous view over vienna if you book one of the "Loft Rooms".
The baristas are ready to serve you 24/7 with the best coffee and local-sourced organic foods in their Bar & Café.  Upstairs, the Galley Kitchen offers complimentary hot drinks and a vending machine stocking everything from an umbrella to toothpaste, from bio-chewing gum to family-made soft drinks. I really loved this.
You can also find a Yoga & Meditation room and a movie room, just perfect to escape the hectic city life.
The breakfast is absolutely perfect an offers everything a breakfast-loving heart desires. A fairly substantial buffet breakfast, of mostly locally produced organic food, is served in the Bar & Café .
Ruby Marie definitely is the perfect hotel for your next trip to Vienna. Also check out Ruby Sofie & Ruby Lilly ;)
*** in friendly collaboration with Ruby Hotels