Today I have something absolutely delicious & guilt-free for you ;) Gluten & white sugar free muffins! Ahh guys, I can tell you, these little bastards are so mouth-watering!
For this special recipe, which mainly is my own creation, I used two of my favorite "healthy-lifetyle" products. My beloved Jentschura "Morgenstund' Brei" & Sukrin.
The "Morgenstund Brei" is a millet and buckwheat porridge with fruit and seeds, which can also be used as flour for baking. Sukrin is a calorie free sugar which consists of 100% Erythritol, a substance which can be found in some fruits naturally.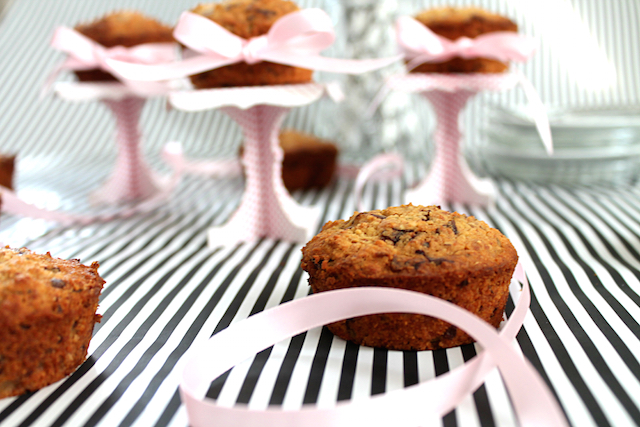 INGREDIENTS:
200g MORGENSTUND' BREI 
375ml WASSER
30g FLUENT HONEY
70g SUKRIN
1 EGG YOLK
1 WHIPPED EGG WHITE
30g BUTTER
200g ALMOND FLOUR
2 TBSP. BAKING POWDER
CACAO NIP or 70% (or more) DARK CHOCOLATE cut into small pieces
Preheat the oven to 175°C (air circulation). Froth up SUKRIN, egg yolk, honey & butter for a few minutes, until smooth.  Add the "MORGENSTUND' BREI", almound flour & baking powder to the sugar-egg mixture. Add the cacao nibs and add the egg white. Fill the batter into small cupcake paper cups or a muffin griddle and bake for about 20-25 minutes.
Let the cupcakes cool down.