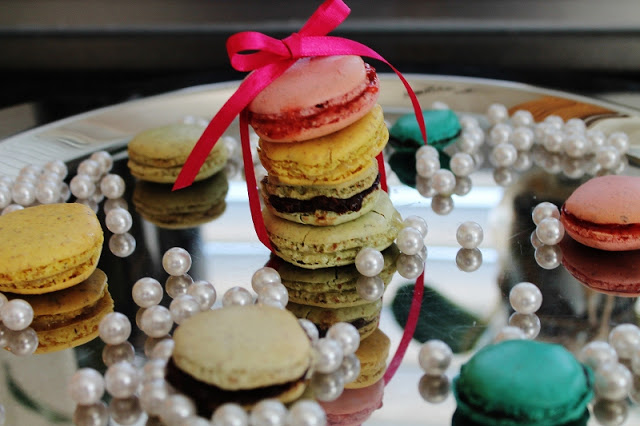 Macarons are coming back into fashion in a big way. Everyone is talking about this sweet little confectionery and the most famous macarons might be those from Pierre Hermé and Ladurée (I absolutely adore the macarons from Ladurée). After flipping through a wonderful french cook book, I came up with the idea of baking these mouth-watering little cookies at home.
Carefully follow the recipe for perfect macarons that will wow your guests;)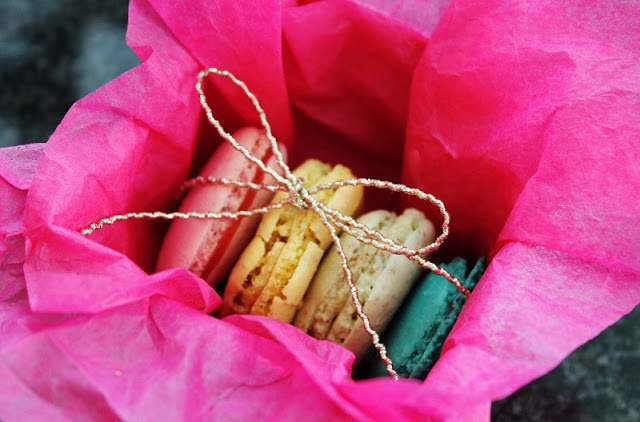 PS: Those sweet little macarons are also very nutritious! An average sized macaron gives you almost 97 calories, and that's for the size of 2.5cm diameter per piece ;)
Ingredients (for 20 macarons)
10g superfine (castor) sugar
45g finely ground almonds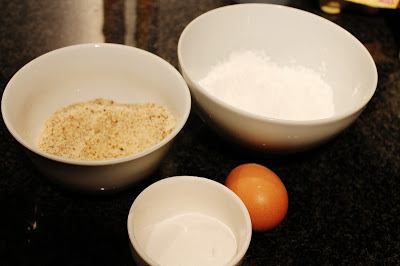 1. Beat egg white in the bowl until whites are foamy; beat in the granulated sugar and continue beating until egg whites are glossy, fluffy and beat in the powdered sugar (in 3 small quantities).
2. Add the food coloring paste.
3. Fold the grounded almonds into the egg whites.
4. Spoon a small amount of batter into a piping bag (or into a small plastic bag with a small corner cut off ) and pipe a test disk of batter, about 1 1/2 – 2 cm in diameter onto the prepared baking sheet. If the disk of batter holds a peak of flattening immediately, gently fold the batter a few more times and retest.
5. When batter is mixed enough to flatten immediately into an even disk, spoon the batter into the piping bag and pipe the perfect batter onto the baking sheet in rounds, leaving space between the disks.
6. Let the piped cookies stand out at room temperature for about 30 minutes.
7. Preheat the oven to 140 degrees (circulating air).
8. Bake the cookies for about 12-14 minutes, until set but not browned.
9. Let your cookies cool completely before filling.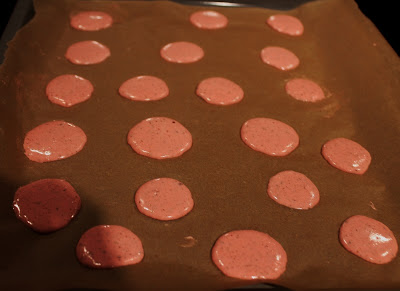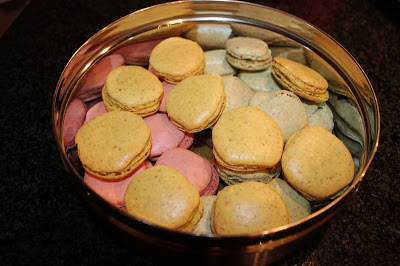 Ingredients for the Ganache:
50g white or dark chocolate
15 – 20g fat-reduced cream
1. Chop the chocolate into small pieces so it melts evenly
2. Bring the fat-reduced cream to boil
3. Pour the hot cream over the chocolate combine using a whisk. Allow to cool.
4. Add the flavour wanted (I used citron, cherry brandy, rose water)